Description
Gallery
Shipping & Returns
Warranty
Reviews
Licensed Mercedes CLA 45 AMG Kids Electric Ride-On Car MP3 USB Player 12V Battery Power LED Wheels EVA Foam Rubber Tires and Soft Glow Underbody LED  Kit with Parental Remote by Moderno Kids
Approved and Manufactured under Official License from Daimler Benz
ASTM F963 Compliant Product (US Consumer Toy Safety Standard)
Suitable for Boys or Girls 2-5 Years Old (Or Younger, Under Supervision of Adult) with Maximum Rider Weight of 66 lb
12V Rechargeable SLA Battery, 2 Motors, 2 Speeds - High and Low (3 Speeds controlled by Parental Remote), Maximum speed 2-4 Mph
Forward / Reverse Switch, Lights ON/OFF Switch
Designed for riding on paved flat surfaces (Not for riding on sand, mud or grass)
NEW ! Full Function Long Range 2.4Ghz Parental Remote Control with remote STOP function
NEW ! Soft Start and Electric Brake System for Gradual Acceleration and Reliable Braking
NEW ! Electric Power Assisted Steering System with Automatic Return to Center
NEW ! 3 Position Adjustable Telescopic Steering Wheel
NEW ! Soft and comfortable PU Leather seat with 5 Point Safety Seat Belt (Similar to Stroller Seat Harness)
NEW ! Front + Rear Spring Shock absorbers, One Button Wheel Assembly System
Realistic working LED Headlights / Tail Lights / Dashboard Lights and Gauges
NEW ! AMG Sport Style Attractive Color LED Wheels with Zero Maintenance Soft EVA Foam Rubber Tires, Provide Very Comfortable Ride
NEW ! Full Underbody Soft Glow Blue LED Kit (Preinstalled)
NEW ! Realistic Openable Doors and Storage Trunk
NEW ! Integrated MP3 Player with AUX MP3 Audio Input, Plays files from Micro SD card, USB Flash Drive or external devices like iPod, iPad, iPhone or Android Phones
Horn and Sound Buttons on the Steering Wheel, Battery Meter Display on Dashboard
NEW ! Removable Baby Tray Table with a Bottle / Cup Holder for Little Kids
NEW ! Removable Moderno Kids Rubber Floor Mat (Keeps your Toy Car Clean)
NEW ! Integrated Folding Handlebar and Folding Rear Caster Wheels to transport the car Without Battery Power
NEW ! Smart Battery Charging Technology, Automatically controls Battery Charge and Prevents Overcharging
Extremely Easy to Assemble, Requires Less Than 15 min
Battery Charging Time 1 - 8 Hours (Automatically controlled), Riding Time 1 - 2 Hours (Depending on ride conditions)
Assembled Dimensions: Length - 46", Height - 21", Width - 28" (With Mirrors)
Shipping Weight: 46 lb
This product is Officially Licensed by Daimler AG
Warranty: 90 Days Replacement Parts / Battery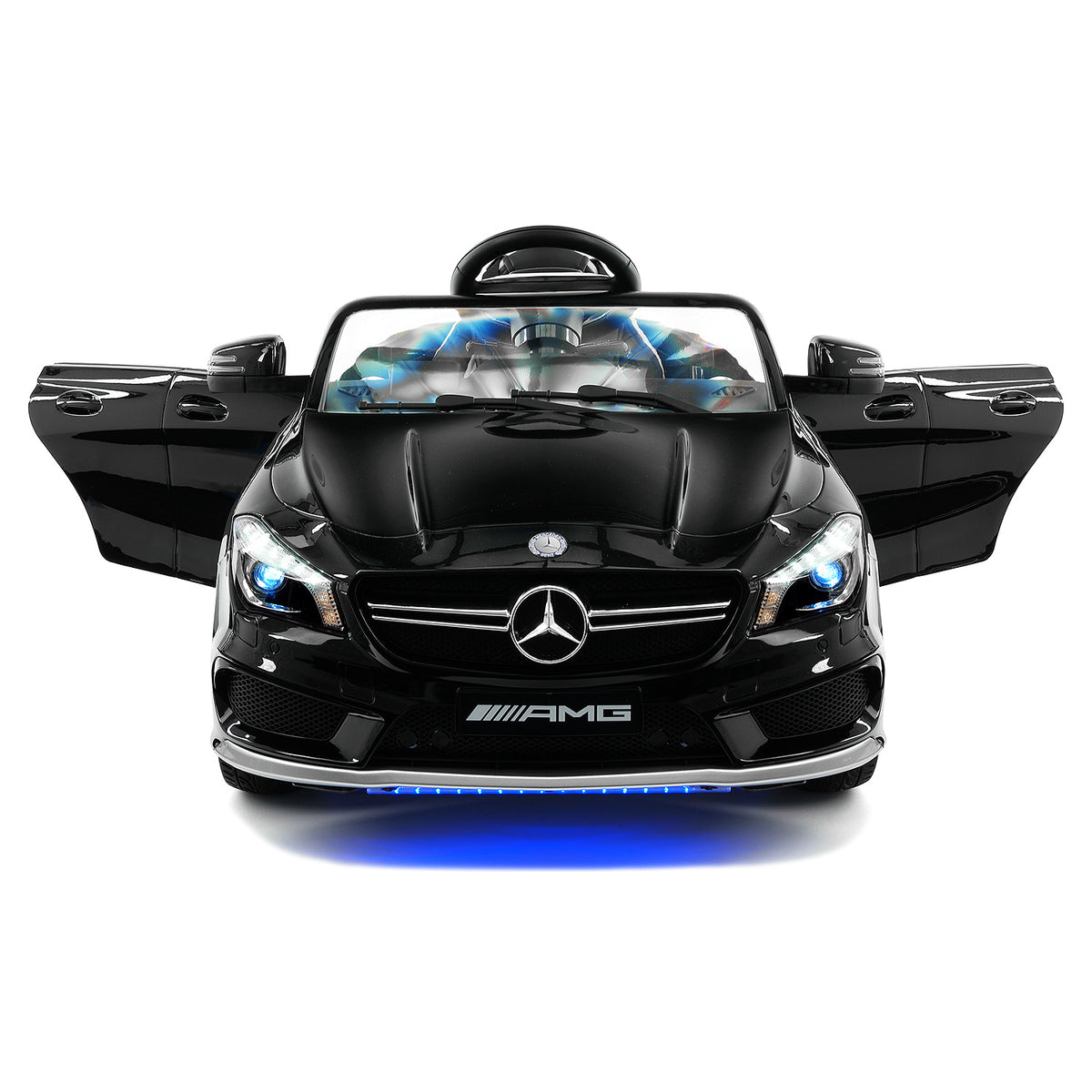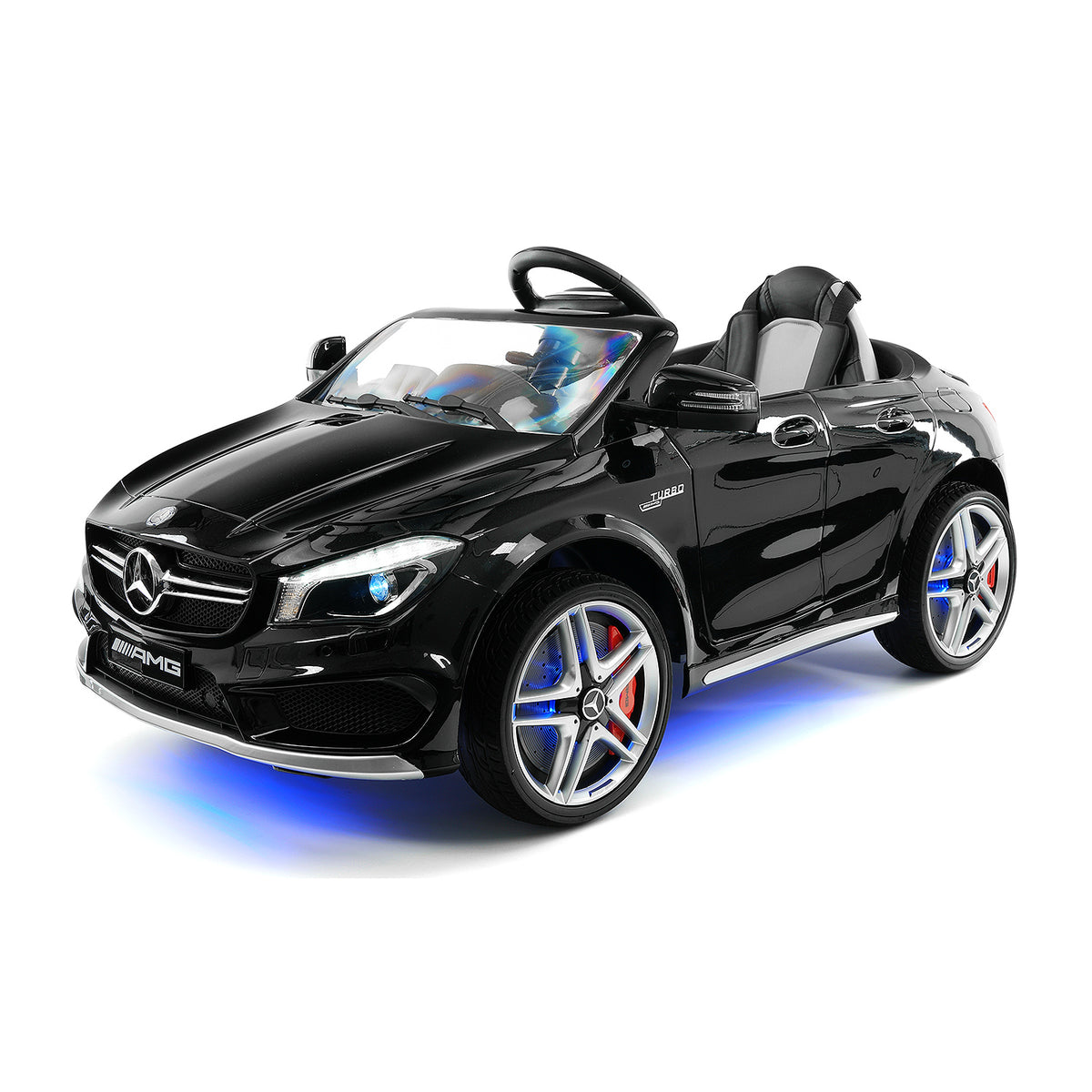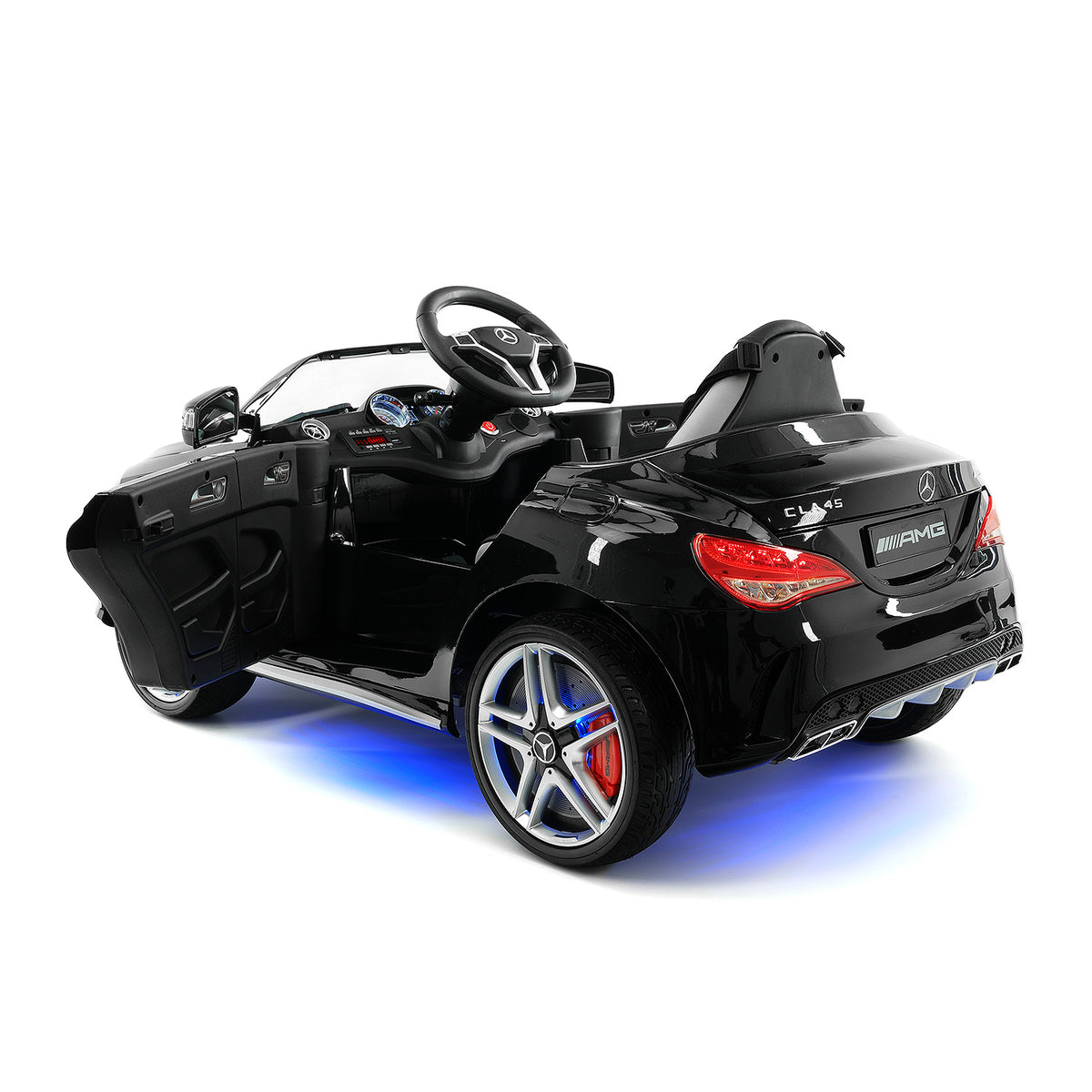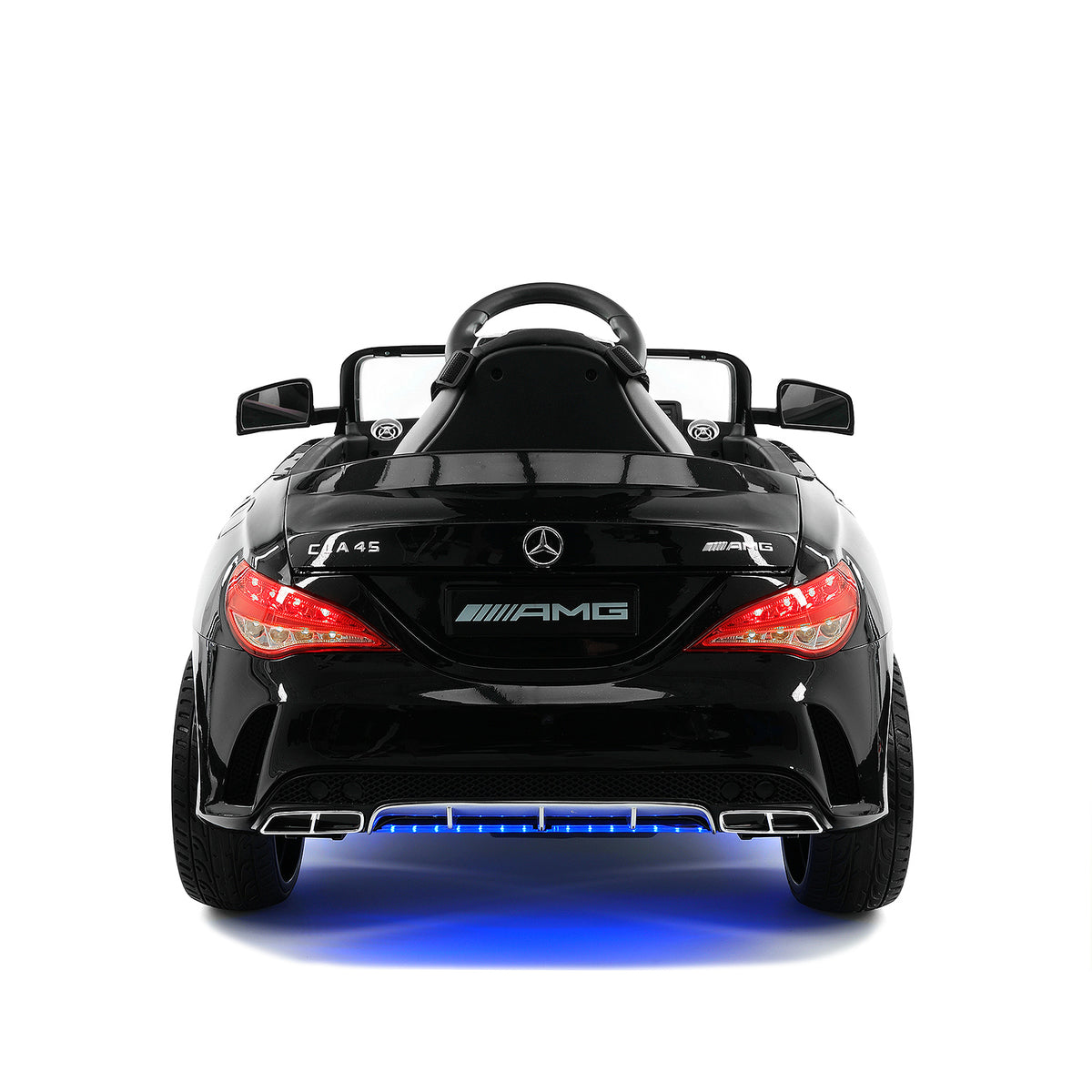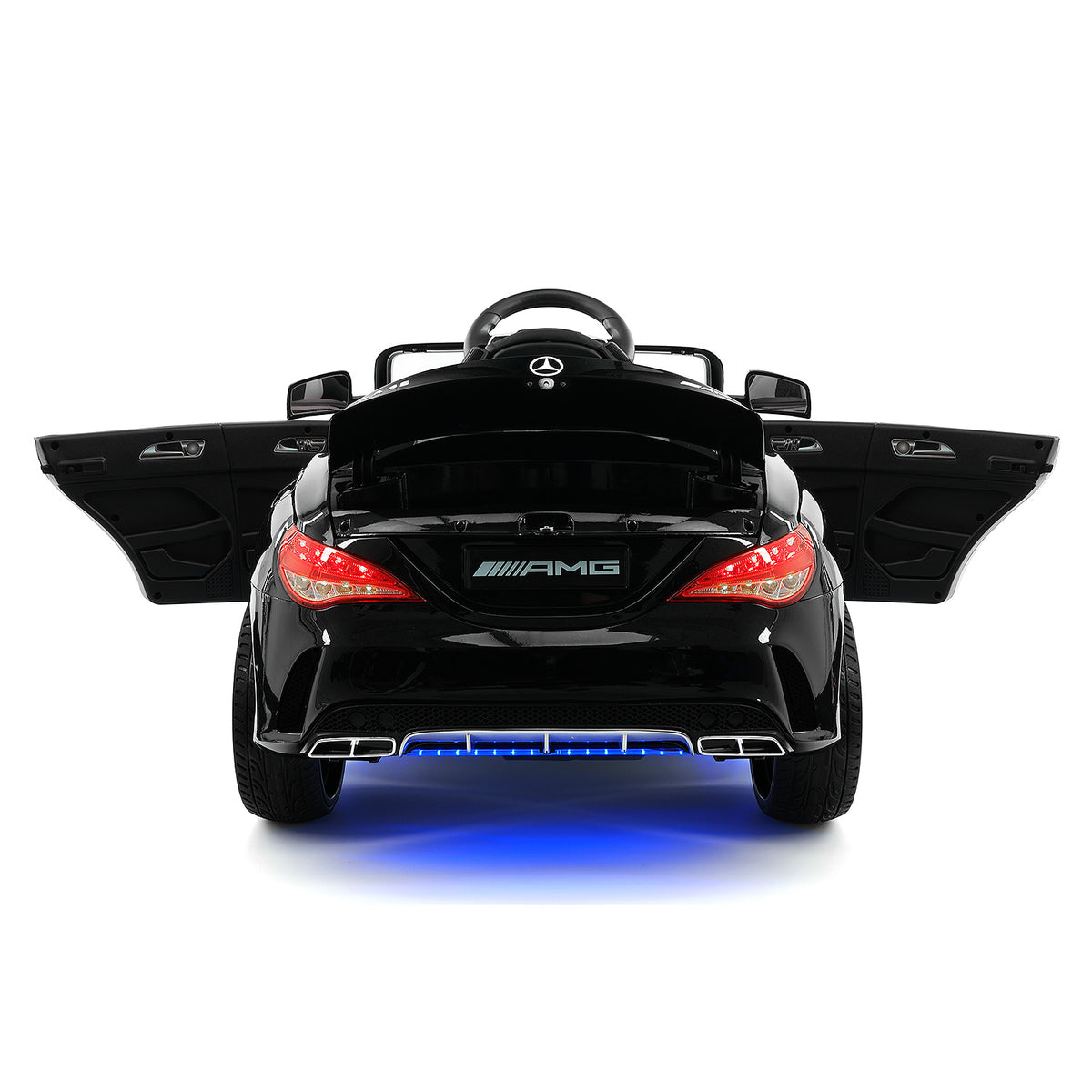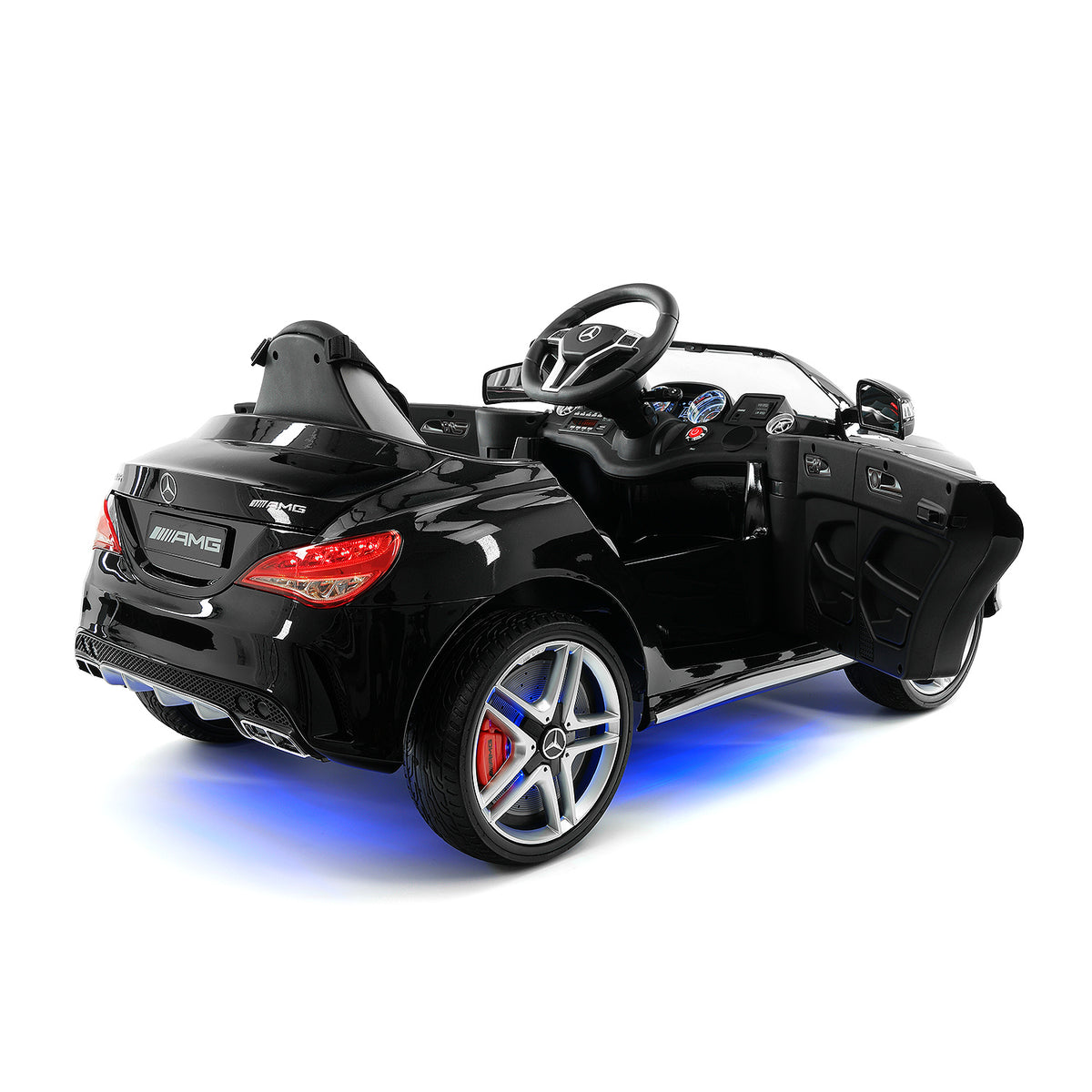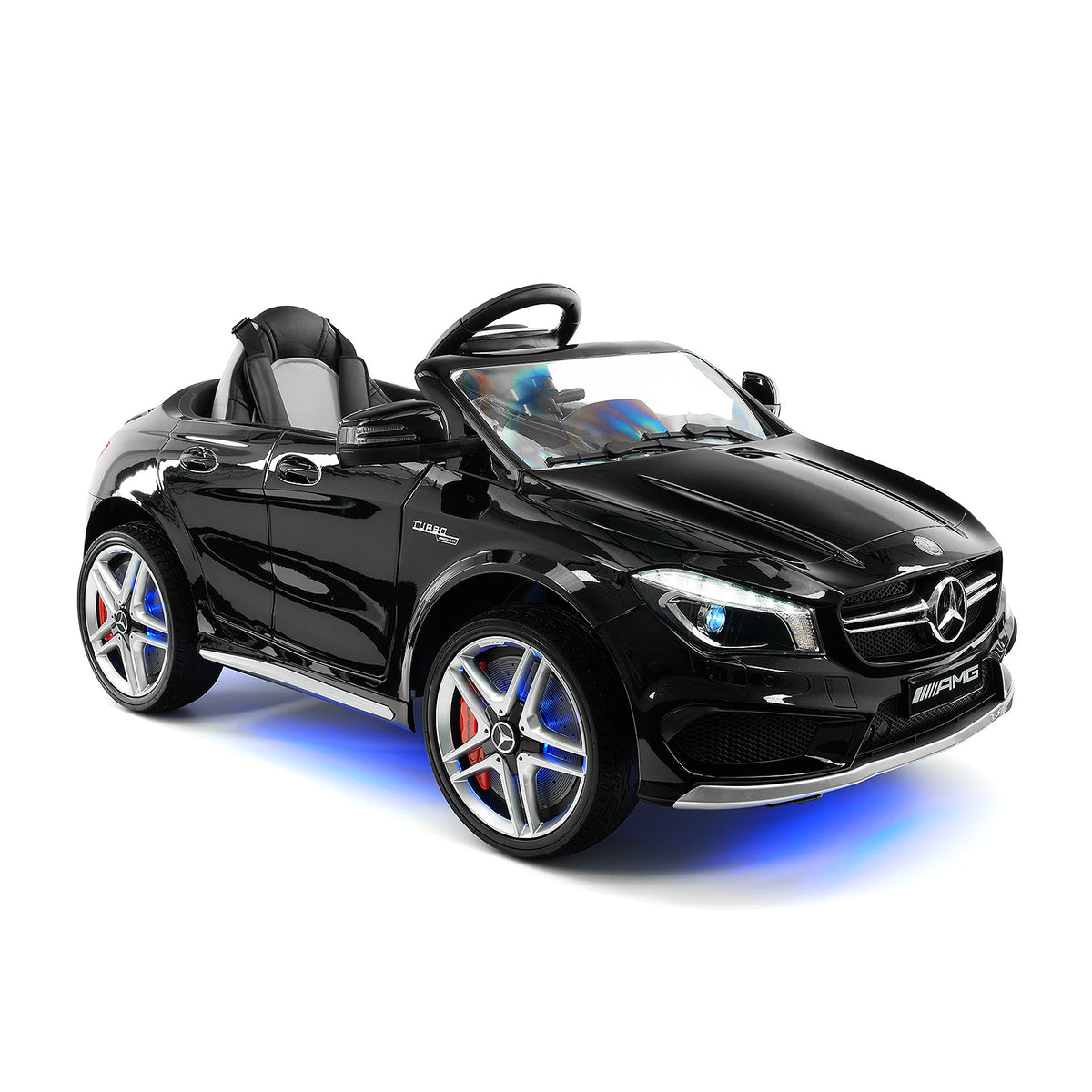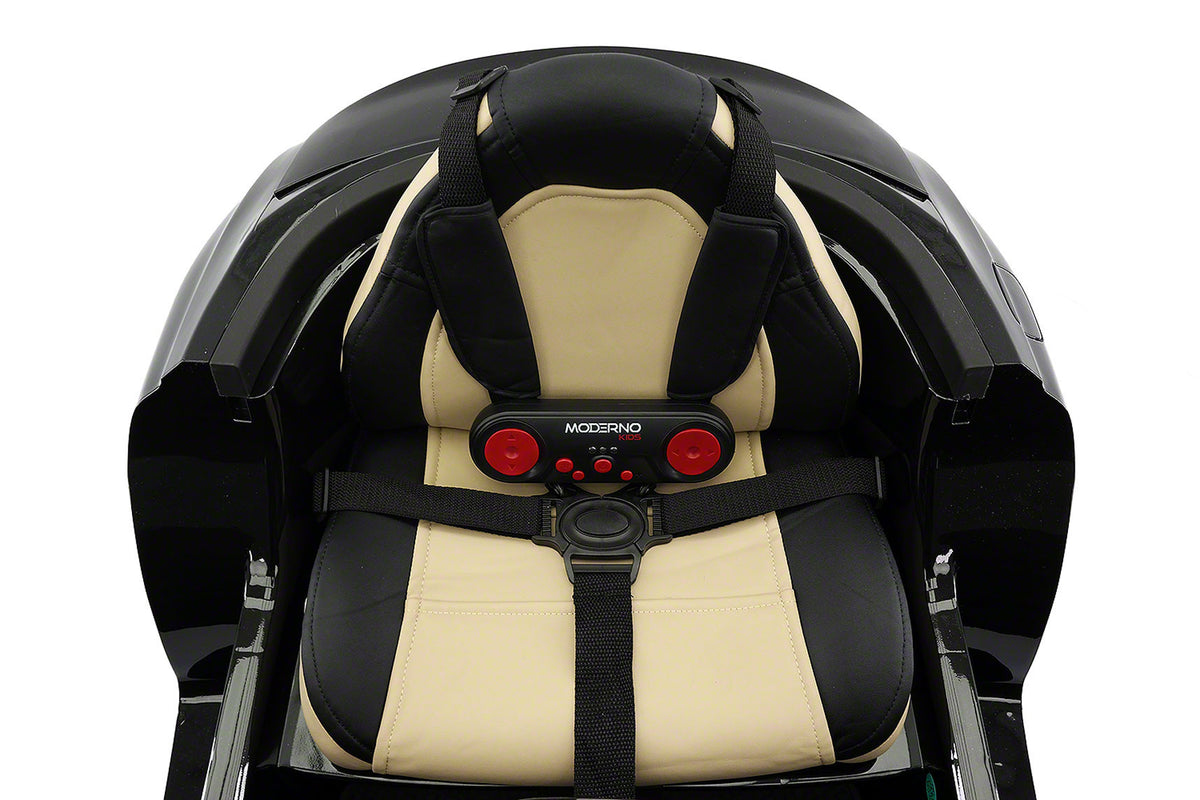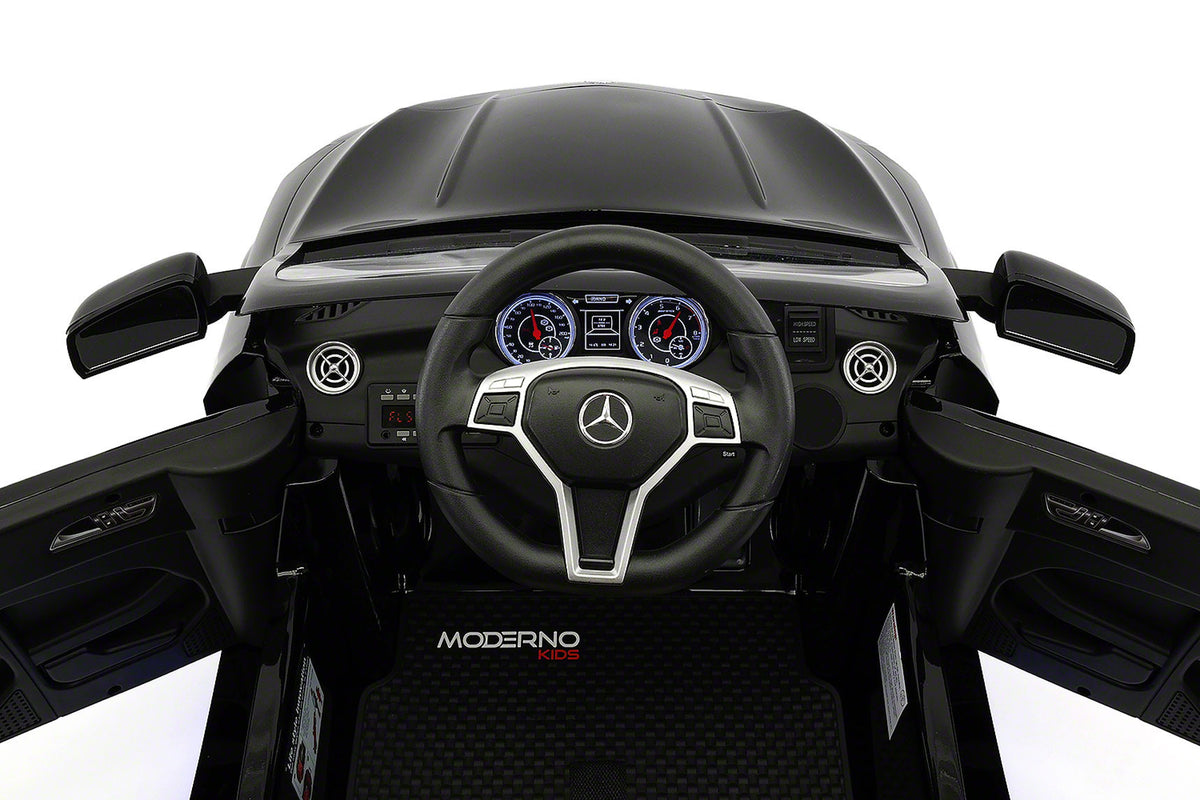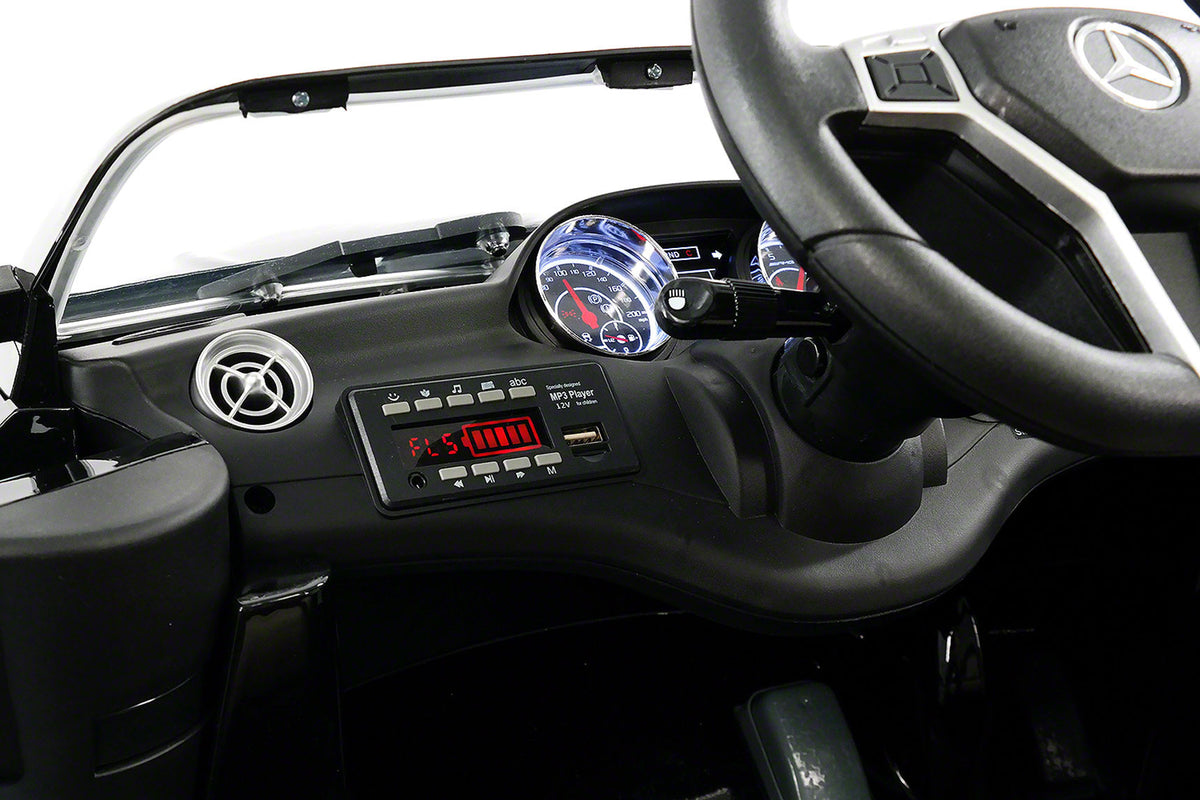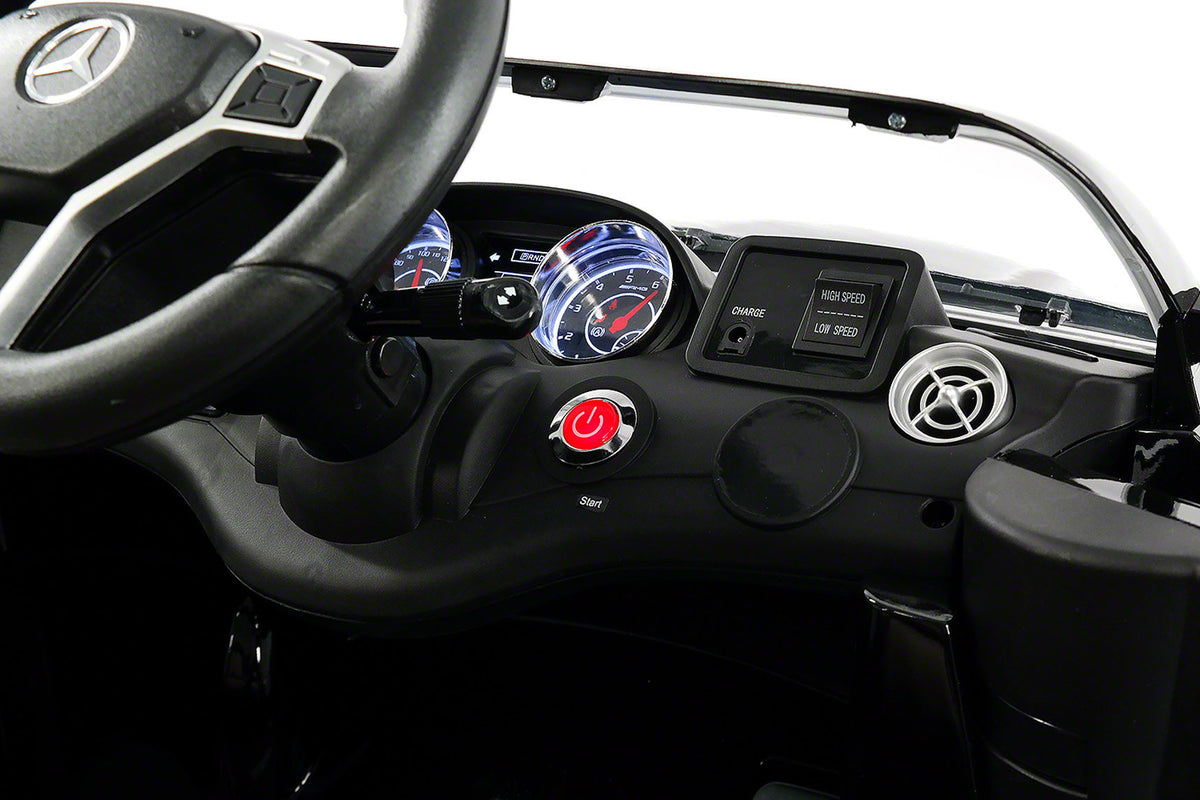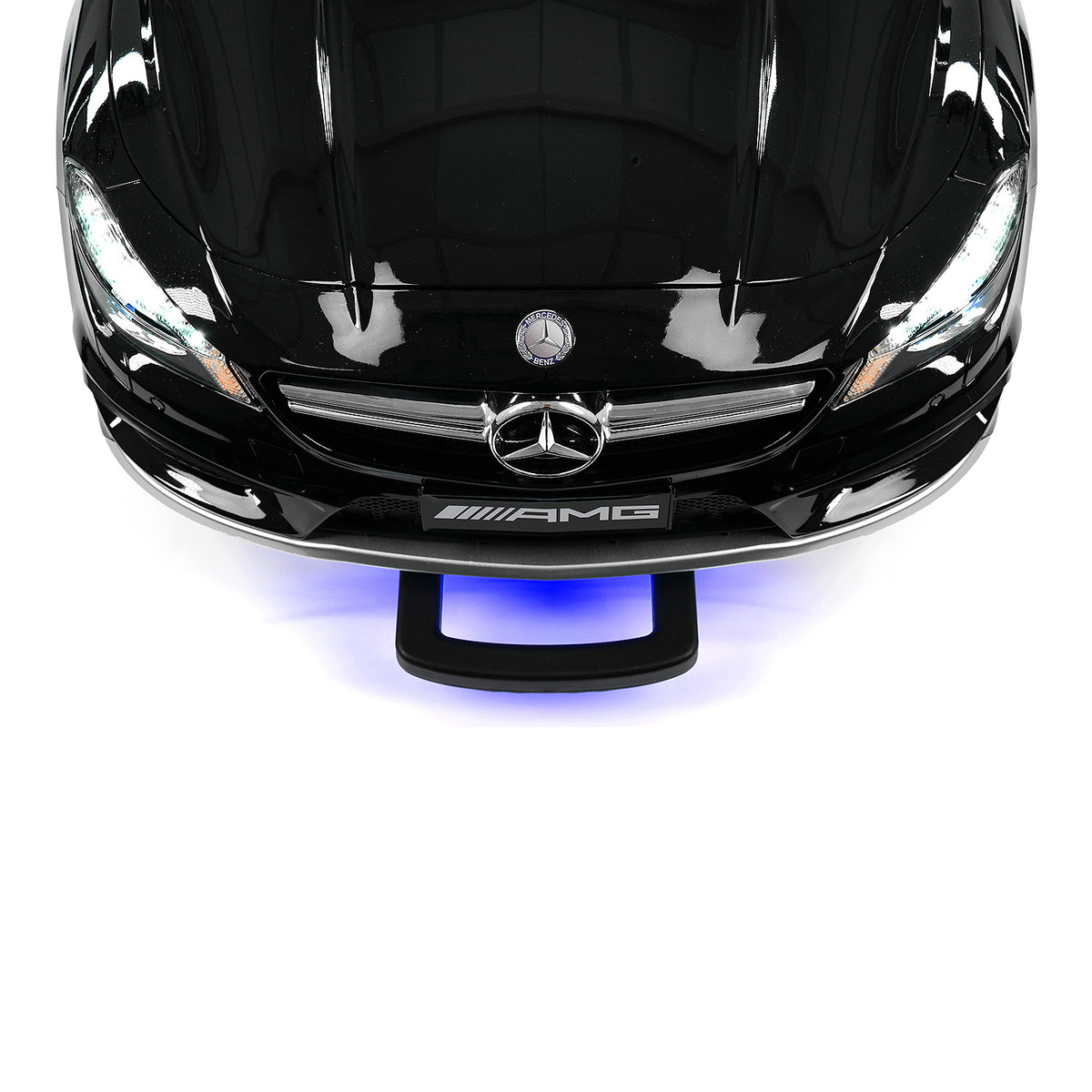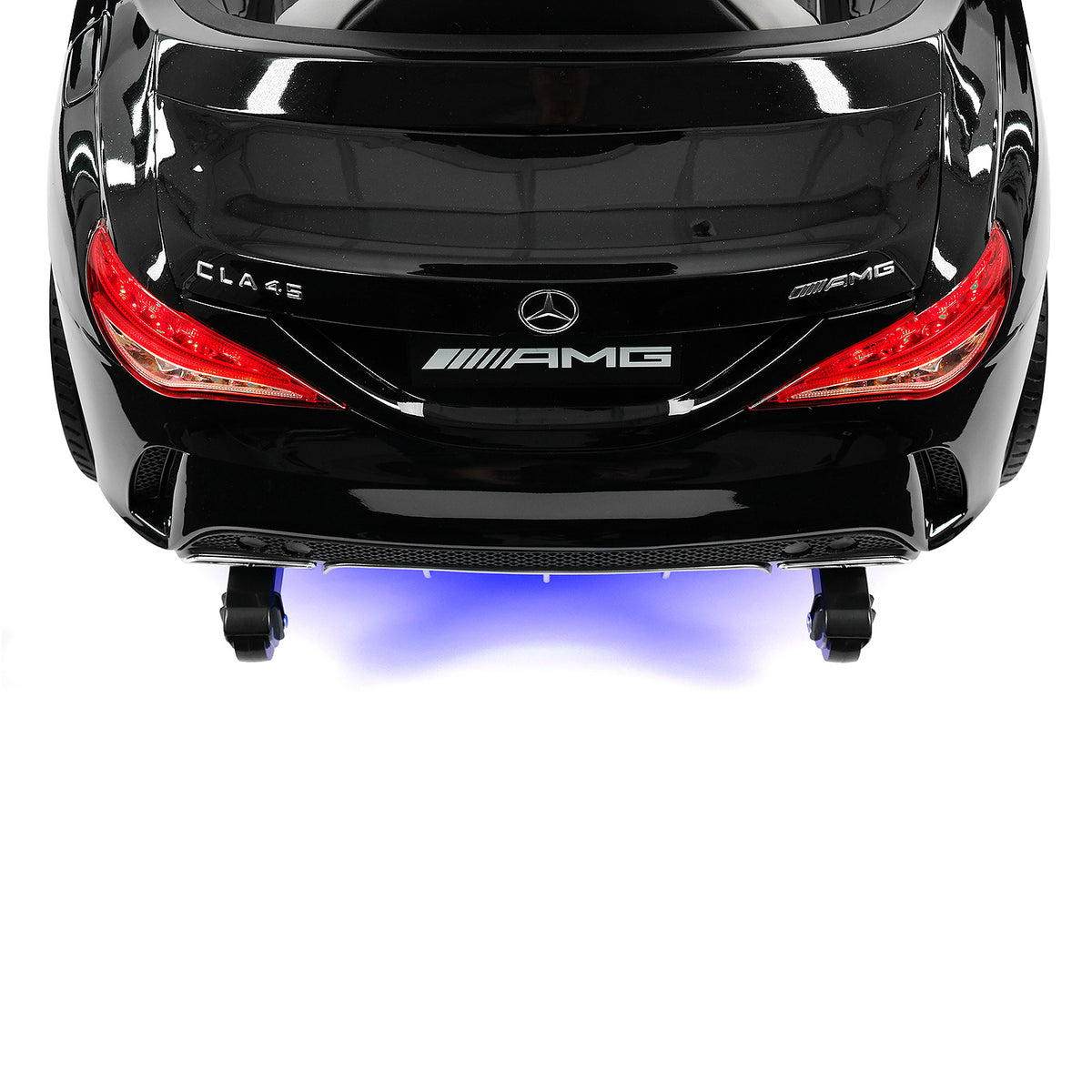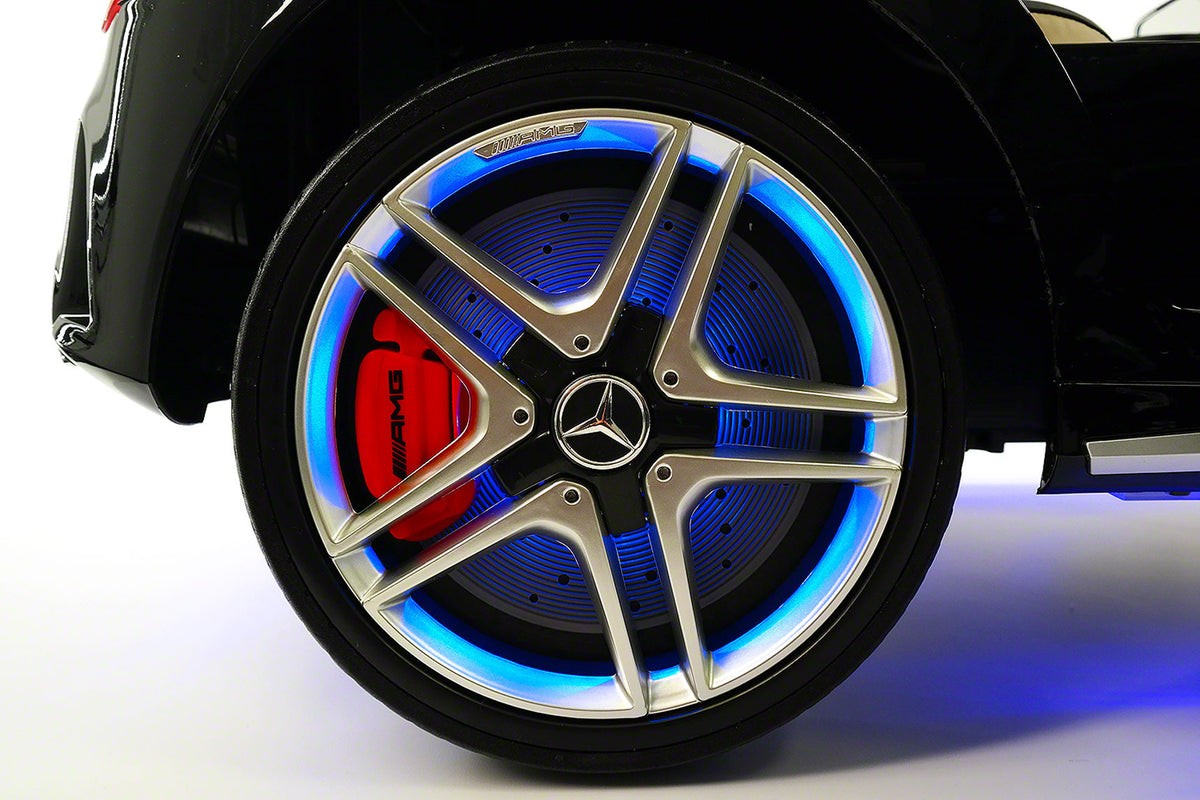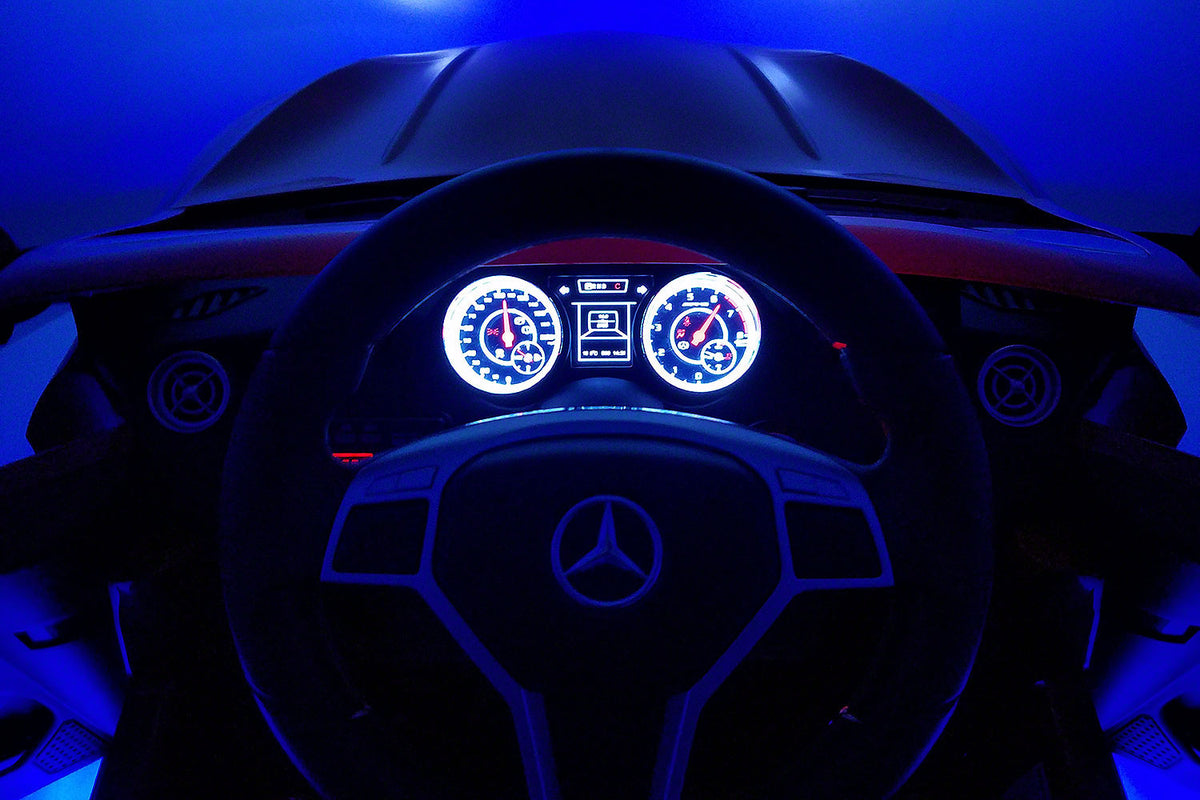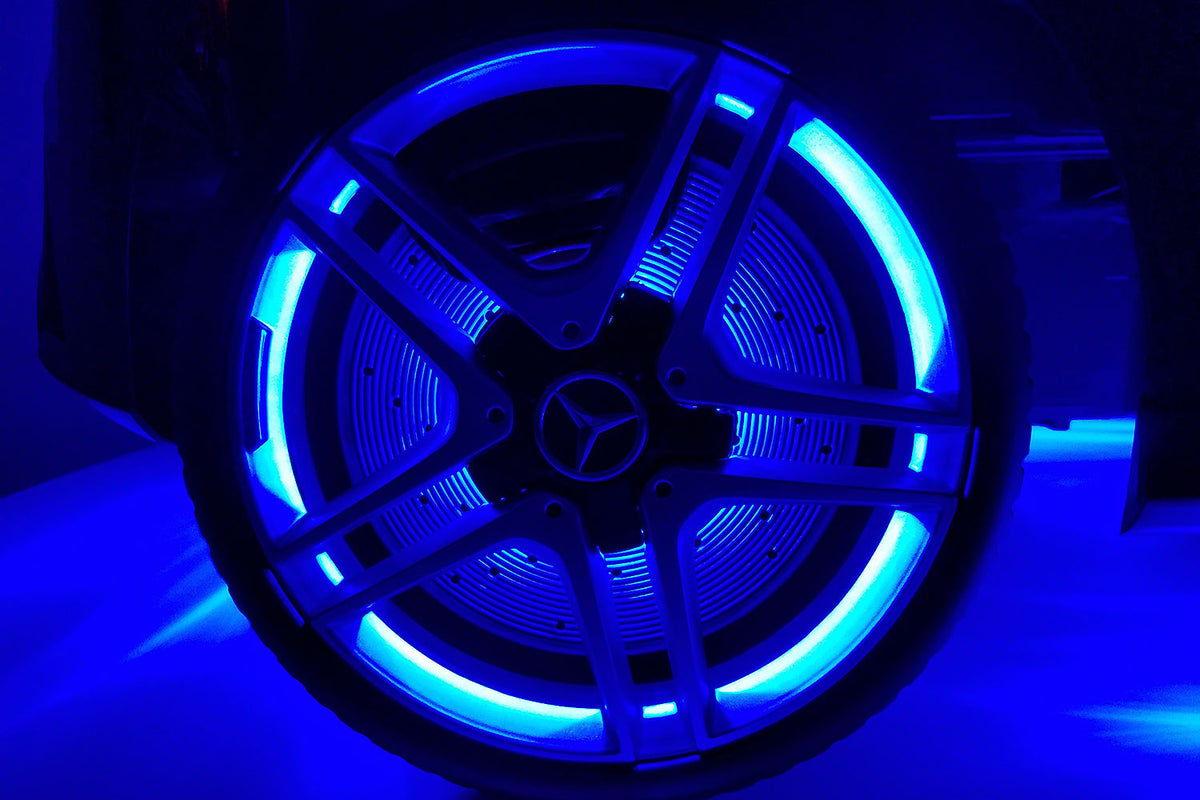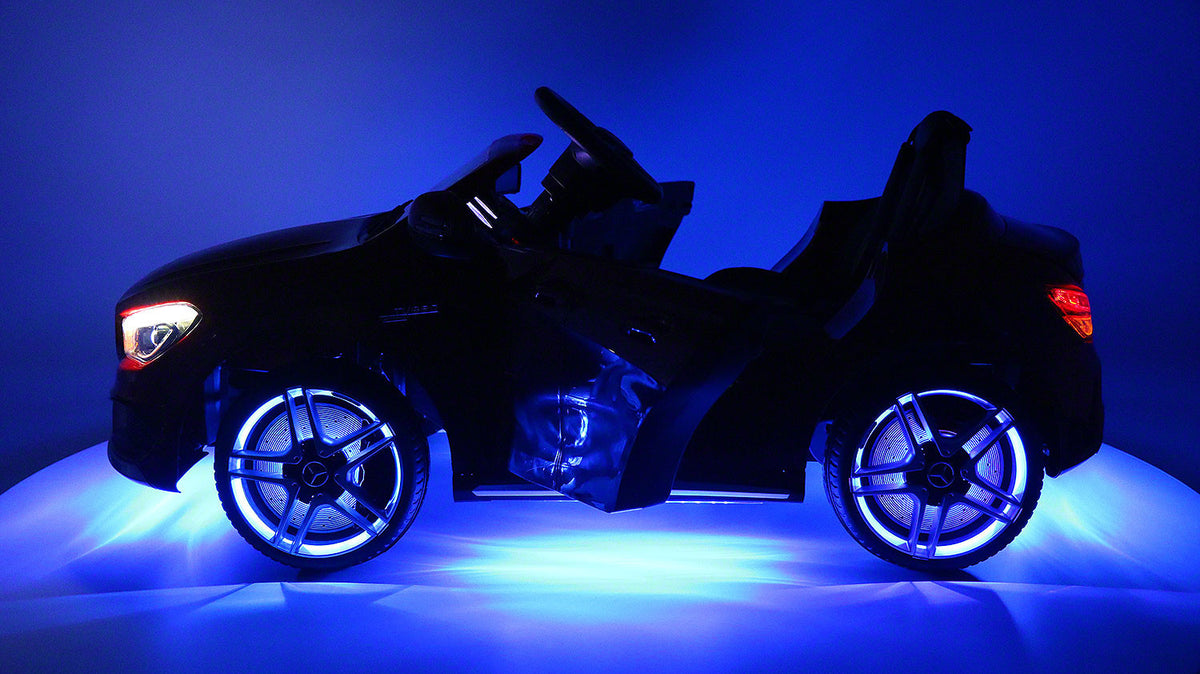 All "IN STOCK" products shipped within 1 Business Day via shipping method you choose at checkout. Map below displays estimated delivery time for orders shipped with "Standard Ground Shipping".
We accept returns on all new unopened and unused products within 30 days from the date of purchase. All products must be returned in their original packaging with all initially supplied accessories and documents. All returns are processed within 5 business days and refund issued back to original method of payment used. If product we shipped arrived in damaged condition, it must be reported to us within 30 days from the date of purchase and we will gladly exchange the product or provide a new replacement part, depending on the reported product condition. Products returned back in incomplete or misrepresented condition are subject to a 20 percent restocking fee plus all applicable shipping and handling charges associated with return, which will be deducted from your final refund. All products returned back as "unable to be delivered" or "refused upon delivery", not due to a shipper or shipping carrier mistake, are subject to a fee equal to 20 percent of the product sales price.
For more detailed information about Returns, Refunds and product Warranty policies please click here.
If you have any questions, please contact our customer support team at: (858) 256-7890, Monday through Friday 10 am to 6 pm EST. 
A PARENTAL DECISION TO ALLOW CHILD TO OPERATE RIDE ON TOYS SHOULD BE BASED ON THE CHILD'S MATURITY, SKILL AND ABILITY TO FOLLOW RULES. CHILDREN SHOULD NOT BE LEFT UNATTENDED WHILE OPERATING RIDE ON TOYS. TO AVOID INJURIES, A PARENTAL SUPERVISION IS REQUIRED AT ALL TIMES. PROTECTIVE GEAR MUST BE USED WHILE OPERATING MOTORCYCLES, SCOOTERS, BICYCLES AND SELF BALANCING BOARDS.
Most products offered by "Moderno Kids" come with standard 90 Days Limited Warranty (unless stated otherwise on product page) that will cover any electrical or mechanical component during the first 90 Days from the date of purchase. If any component, covered under warranty, malfunctioned within specified warranty period, replacement part will be provided free of charge and shipped to any destination within Continental United States. End user will have to install provided replacement part himself or contact phone product support for assistance. A flat rate Shipping and Handling charge of $14.99 will apply to all parts orders placed after 30 days of receiving the product. Products that require warranty service can also be shipped to Moderno Kids for diagnostic and repair. Customer will be responsible for shipping product to provided service location. All "Moderno Kids" branded products are warrantied and serviced directly by Moderno Kids and come with lifetime email and phone support.
All other products offered on Moderno Kids website are covered by the warranty from their original manufacturers and might have different warranty terms which provided on product pages.
Product Warranty does not cover lost parts or accessories, 

normal wear and tear, physical 

damage or abuse, water or sand damage of the product. 
All rechargeable batteries come with Limited 90 Days Replacement Warranty. To avoid frequent and unnecessary replacement, all batteries must be used, charged and maintained according to information listed in product user manual and on product labels. Batteries should not be stored is discharged condition, even when product is not in use.
To be eligible for warranty service, product must be purchased from authorized retailer. A valid proof of purchase is required, except for orders placed directly through Moderno Kids online store.  All products purchased for commercial use covered by a Limited 30 Days Parts Only Warranty.
If you purchased service plan or product warranty from a third party company not affiliated with "Moderno Kids", for all replacement parts you need to contact warranty provider directly.
For all warranty or service related questions, please contact us at: (858) 256-7890 or email us at: support@modernokids.com
Can't get remote to turn off please help

Remote automatically activates sleep mode to save batteries if not used for few min.

How do you make the LED lights work?

There is a lever handle ON/OFF switch located on the left side of the steering wheel column.

I lost the remote control for my son's MKSX1538. Is there any way for me to purchase a replacement remote control? Please let me know. Thank you.

Yes, simply call our customer support anytime between 10am and 6pm EST Monday trough Friday and they will help you.

I know it comes with a remote but can my son control it his self with the remote?

Yes, this toy can be operated both ways.

What age group is suitable

Recommend age for this car is 2 years to 5 years. Sometimes parents purchase this car for 1+ year old kids, but it really depends on a child and its for you to decide, since some small kids get scared of startup engine sounds car makes on power on.

Where is the battery and how do we charge it?

Battery is under the seat and it needs to be connected (2 red plug connectors need to be connected together) before you install the seat, charging port is on dashboard.